KIWANIS FESTIVAL RESULTS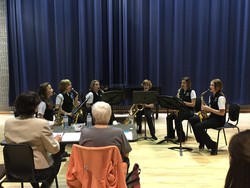 PIONEER FESTIVAL RESULTS
Scholarships
Woodwinds
Jr. Solo - McKenna Peterson 
Inter Solo - Kelly McLeod
Jr. Duet/Trio - Brianna Laskosky, Bailey Serhan & Rayelle Cooper
Inter Duet/Trio - Kelly McLeod & Sarah Edginton 
Inter Quartet/Quintet/Ens. - Pioneer Gr. 8 Sax Ensemble
 Brass
Jr. Solo - Preston Montgomery
Inter Solo - Oliver Winchell
Jr. Duet/Trio - Braden MacDonald & Alexa Nurang
Inter Duet/Trio - Carson Sulek & Oliver Winchell
Jr. Quartet/Quintet/Ens. - Pioneer School Gr. 6C Brass Ensemble
Inter Quartet/Quintet/Ens. - Pioneer School Gr. 8 Brass Quintet
Bands
11000 Concert Band - Gr. I - Jr. HS - Pioneer Gr. 7 Band
11100 Concert Band - Gr. II - Jr. HS - Pioneer Gr. 8 Band
~~~~~~~~~~~~~~~~~~~~~~~~~~~~~~~~~~~~~~~~~~~~~~~~~~~~~~~~~~~
Results
GRADE SIX
Grade 6 Band – Superior
Gr. 6 WW Solo
1 – Mckenna Peteresen
2 – Max Krabben
Gr. 6 WW Duet
1 – Arwyn Lastiwka & Dana Brooks
2 – Brooke Nelson & McKenzie Bunney
2 – Genevieve Mamer & Isabel Chambers
Gr. 6 Mixed Duet
1 – Max Krabben & Blake Morley
 Gr. 6 WW Trio
1 – Breanna Laskosky, Bailey Serhan & Rayelle Cooper
Gr. 6 WW Ensemble
1 –Caleigh McMurchy, Madyson Mackinnon & Taylor McNeil
2 –McKenna Petersen, Sije Winchel, Lorelei Doroschuk & McKenzie Spellman
Gr. 6 Brass Solo
1 – Preston Montgomery
2 – Rachel Burnell
Gr. 6 Brass Duet
1 – Braeden MacDonald & Alexa Nurang
Gr. 6 Brass Trio
1 – Preston Montgomery, Gradyn Chadney & Oliver Trautmann
2 – Marcus Bird, Marty Block & Logan Thompson
 Gr. 6 Brass Ensemble
1 – Ethan Stewart, Hailey Greer, Quiana Olchowy, Anita Moggy, Elizabeth Mayer & Anika Charlton
2 – Ashton Elmquist, Will Goffin, Noah Stephens, Robyn Overgaard, Gabriel Rogers 
GRADE SEVEN
Grade 7 Band - Superior
 Gr. 7 WW Solo
1 – Jaylyn vanTol
2 – Ethan Fillinger
Gr. 7 WW Duet
1 – Eden Fedemma & Allegra Milchalsky
2 – Tanner Thompson & Bryce Nast
Gr. 7 WW Trio
1 – Eugene Sul, Dylan Matchett & Ethan Fillinger
2 – Marlee Cooper, Jaylyn vanTol & Hailey Fletcher 
Gr. 7 Brass Solo
1 – Oliver Winchell
2 – Erin Eklund
Gr. 7 Brass Duet
1 – Oliver Winchell & Carson Sulek
 Gr. 7 Brass Trio
1 – Jayla Nicolay, Erin Eklund & Ashley Hooey
Gr. 7 Brass Ensemble
1 – Carter Chatwood, Jenna Wade, Erin Eklund, Grace Thompson & Oliver Winchell
2 – Carter Chatwood, Anja Matagora, Jayla Nicolay, DJ B & Eric Ryersee
 GRADE EIGHT
Gr. 8 Band – Superior
 Gr. 8 WW Solo
1 – Kelly McLeod
2 – Paige Hawkey
2 – Dilyn McIsaac
 Gr. 8 WW Duet
1 – Kelly McLeod & Sarah Edginton
2 – Dilyn McIsaac & Heeseo Choi
Gr. 8 WW Trio
1 – Josie Barnett, Caitie Benedictson & Cassie Philips
Gr. 8 WW Ensemble
1 – Kelly McLeod, Sarah Edginton, Bailey Halbert, Paige Hawkey, Blayze Holbein, Craig Morgan
Gr. 8 Brass Solo
1 – Daniel Wedman
2 – Sarah Burnell
Gr. 8 Brass Duet
1 – Sarah Burnell & Cassidy Johannesson
Gr. 8 Brass Quintet
1 – Cassie Cossette, Tessa Frisky, Taylor Beckner, Daniel Wedman & Alyssa Moggy
Gr. 8 Brass Ensemble
Christina Jamison, Sarah Burnell, Melissa Head, Quinton Matkovich, Sam Kostynuk & Craig Stewart
Remembrance Day Assembly
On Friday, November 7, Pioneer School's staff and students were joined by special guests Second Lieutenant McQuillan from the Canadian Armed Forces, Comrad Berger, Comrad Maxwell, 198 Royal Canadian Sea Cadet Core-Yukon Colour Party under the direction of Lieutenant Navy Pinnell and Constable Smits for a Remembrance Day assembly.
Pioneer's grade 8 band students opened the assembly with O Canada as well as played additional selections near the end of the ceremony.  Grade 7 students Jaiden and Hailey, both of whose grandfathers are veterans, laid the wreath.  
Second Lieutenant McQuillan's message focused on "Lest We Forget"; warning of the danger of forgetting lessons learned through the past.  Canada remains strong and free as a result of the continued efforts of Canada's service men and women.  He reminded us to take time to pause, reflect and remember – Lest We Forget.
Pop Bottle Rockets Successful!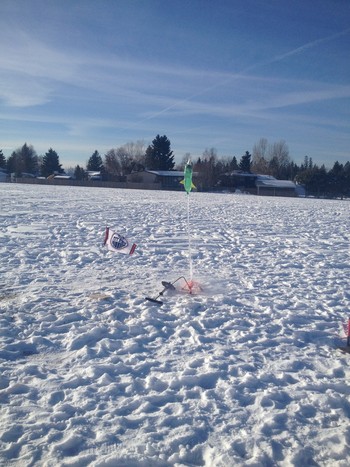 Here at Pioneer School we have a plethora of complementary courses designed to give students a wide range of experiences.  One of them, new this year, is Pop Bottle Rockets.  
In this three month course, students design rockets using common household items; pop bottles, plastic bags, string and ice cream bucket lids.  When the rockets are built, an egg is inserted inside it before the rocket is launched. Students know they have designed a safe and effective rocket when they open up their rocket and the egg remains intact.